cygalski.net – Custom Website Design in London Ontario | Work: Web Design Portfolio > Research & Technology Websites
Contact / Free Consultation: 519 685-3904
Hours: Mon-Fri 9am-5pm

Email: mike[at]cygalski.net
Address: 36 Carfrae Cres.
London Ontario N6C 4A9 Canada
Web Design Portfolio | Process
Research & Technology Websites
www.ocivm.com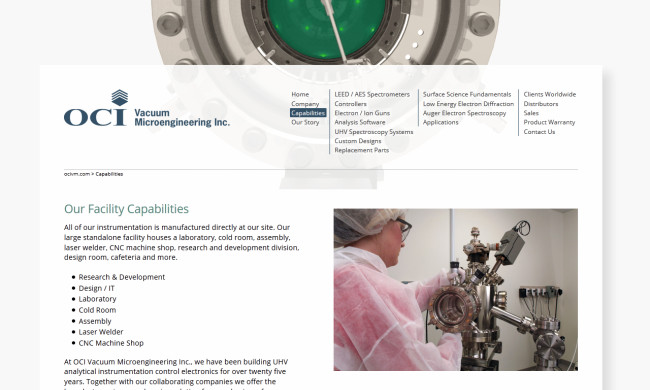 OCI Vacuum Microengineering Inc. website design, photography, logo redesign and global optimization.
OCI Vacuum Microengineering Inc. is a manufacturer of basic surface analytical tools for thin films based on Auger electron spectroscopy (AES), low energy electron diffraction (LEED), mass spectrometry, ion and electron sources. The main application of low energy electron diffraction (LEED) and Auger electron spectroscopy (AES) is to measure two dimensional surface crystallography and ultra-thin elemental composition.

Besides website design, logo redesign, and most of the photography, Mike was responsible for optimizing the site for global search results for "AES LEED", "LEED spectroscopy", "UHV spectroscopy" and similar - Google these from anywhere in the world.
Feedback
Mike, we can't thank you enough for the amazing job you did at building our website. B&MS
The feedback was very positive — people said it reflects my personality, is easy to navigate, well laid-out and fun! NL
Hey, and by the way, our Google ranking is amaaaaazing now. We are top three for most searches now. Thank you for everything you do for us. We are getting tons of jobs just from searches, so we are thrilled. MS
Mike... the info and service I received was beyond my expectations. AE
I have been getting a lot of calls from the website and others have been checking it out before coming to view the units. They are all saying how great the website looks. Congrats on a great job well done. ED
Mike, I just got my first assignment from the web site! I had cold emailed a business publication last week and they just called. They had obviously looked at the site...so thanks! NL
...the font style and size, the graphics/colours of the layout-all make it easy to navigate and read, attractive, professional yet friendly...
There is one thing I can say about it. I love it! I am sure the client will too. MU
We have received great feedback and will wholeheartedly refer you to whoever we can. It has been and absolute pleasure working with you. Sincerely, B&MS
Overall - very cool, very easy to navigate...
[W]ith a single element you not only get a beautiful eye catching image, but you get insight into the site, not to mention a massive design element to style the site around. designmeltdown.com on shiki.ca
Looks great - thanks. And I just landed my second assignment thanks to the site (and a good pitch)! NL
Thanks, I have a lot of people who have seen the web site. A lot of people coming to see and apply have seen it before they came. RS
Overall, it looks great, is easy to get around in...
Well! and woo-eee that is a very fine web site. Obviously well thought out...
FYI we've had lots of compliments on the site. Looks good. GP
All the one-bedrooms are full and I have two two-bedrooms taken today and paid first cheques for them. I think it has lot to do with the website. RS
We've been getting much positive feed back about the web site.... so many thanks again for all your hard work. CP
Everything looks A-OK to me. Launch it! Go live! Yee-ha! MG
We have had many favourable comments over the last months about the web site. CP
Thanks again for all the efforts. The website has never looked so good. ED
Just checked out the site. Looks greatttttttttttt. ED
Overall, it looks great to me, accessible and easily readable, great images...
Mike, just thought I would pass along this very nice compliment on the website from one of my engineers. Regards, DL
I think that we should put this up today.... Thanks a lot it is more than I expected. RS
Thanks for everything....... everyone loves your work. SA
Thanks for making us look professional. AM
Nice job on the websites... TR
Love it!! Waiting for your call. JK
Web Design Work: